HOTEL BOUDA MALÁ ÚPA
Skiareál Malá Úpa
Malá Úpa is a traditional Krkonoše village situated at an altitude of 1000 metres above sea level. 8 kilometres from the centre of Malá Úpa lies the highest Czech mountain Sněžka 1602m above sea level.
The ski resort is divided into two connected areas: U kostela and Pomezky. Pomezky offers skiing on the highest ski slope in Bohemia, the lower side of the Pomezky lift starts at 1050m above sea level.
In total, there are over 2km of prepared slopes.
The U kostela Ski Resort offers 5 easy difficulty slopes, one of which is only 70 metres long and suitable especially for children. The total length of the slopes here is 2490 metres. Each track is equipped with its own lift.
The resort is especially suitable for beginners and families with children. Difficulty of slopes blue – red.
The SkiMU children's park was also newly opened.
Of course there are a wide range of accommodation and catering options.
There are also ski schools, rental shops and well-maintained car parks.
Children up to 6 years old have a free ski pass.
| | | |
| --- | --- | --- |
| Slope name | Length | Elevation |
| Pomezky 1 | 1 000 m | 200 m |
| Children's SKiMU Park Pomezky | 100 m | 13 m |
| Kolbenka | 400 m | 90 m |
| Moravanská spojka | 1 200 m | 70 m |
| Rennerovka | 450 m | 80 m |
| The Wolf's Clutch | 800 m | 70 m |
| At the Church 1000 | 1 200 m | 200 m |
| At the Church 400 | 400 m | 60 m |
| Clutch I. | 250 m | 19 m |
| Clutch II. | 200 m | 36 m |
| Children's SKIMU Park U Kostela | 70 m | 10 m |
| The Movers | m | m |
| Trautenberg | 600 m | 50 m |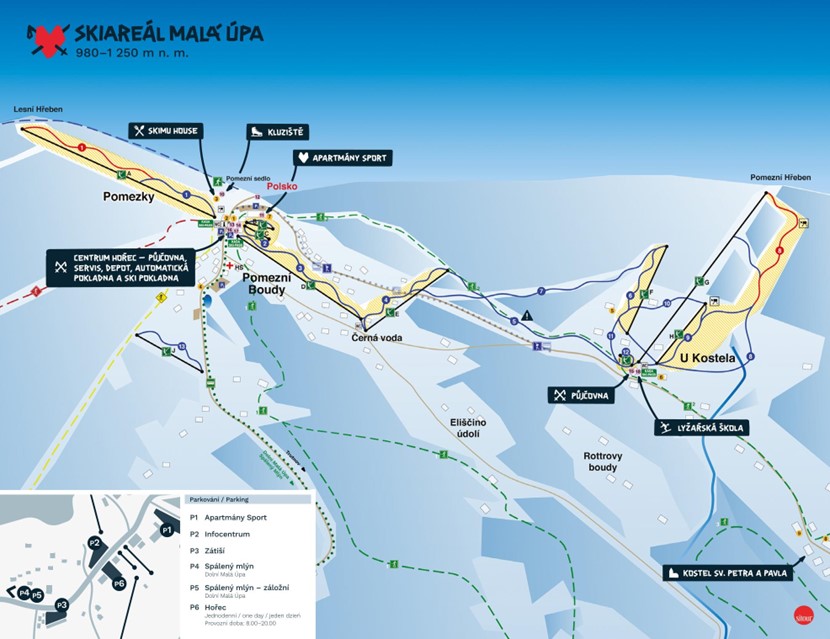 Malá Úpa Ski Resort