RESORT & OKOLÍ
Rodinná dovolená
The best active holidays for families with children await you here. Wellness resort is located in the highest Czech village Horní Malá Úpa in the middle of untouched nature of the Krkonoše National Park. Horní Malá Úpa is a picturesque village that has preserved the original character of a purely mountain village with typical Krkonoše cottages scattered on the mountain slopes.
Treat yourself to a few days of divine rest
You won't find any crazy attractions here. It's divinely peaceful. The surrounding area is suitable for walks with strollers, bike trips, hiking to Sněžka and especially skiing, cross-country skiing and sledding.
Wellness resort Horní Malá Úpa is ideally located for holidays with children. It is right next to the road in the centre of the village and the ski slope starts right behind it. The car will take you to the front door.

Guests staying at the hotel have daily 1 hour free wellness.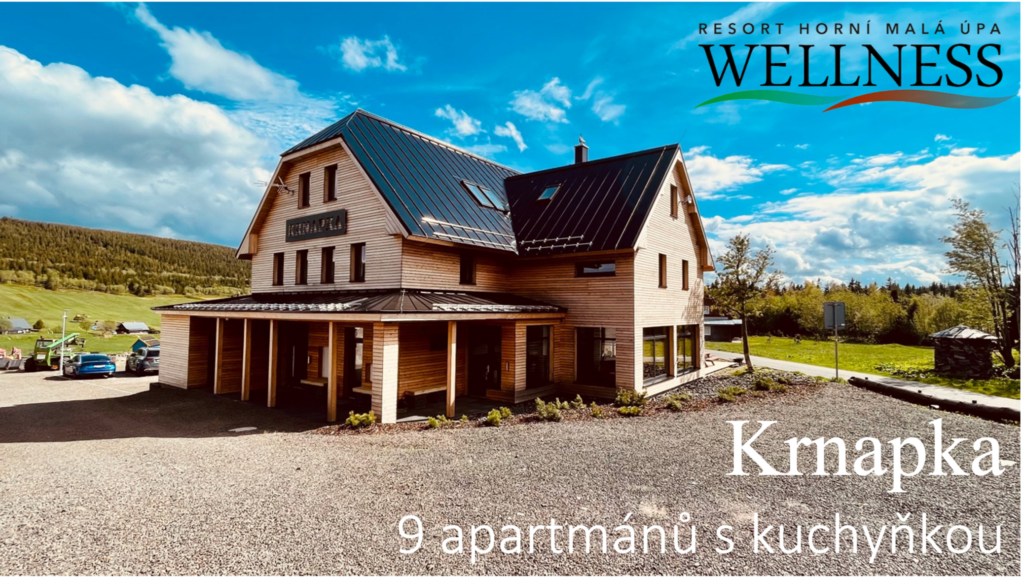 We offer the best accommodation for families with children. It is possible to stay in modern apartments with kitchenette or in comfortable hotel rooms. The resort offers meals in its own restaurant in the form of a rich breakfast or half board.
In addition, there is one private dependance apartment with its own entrance suitable for accommodation with dogs.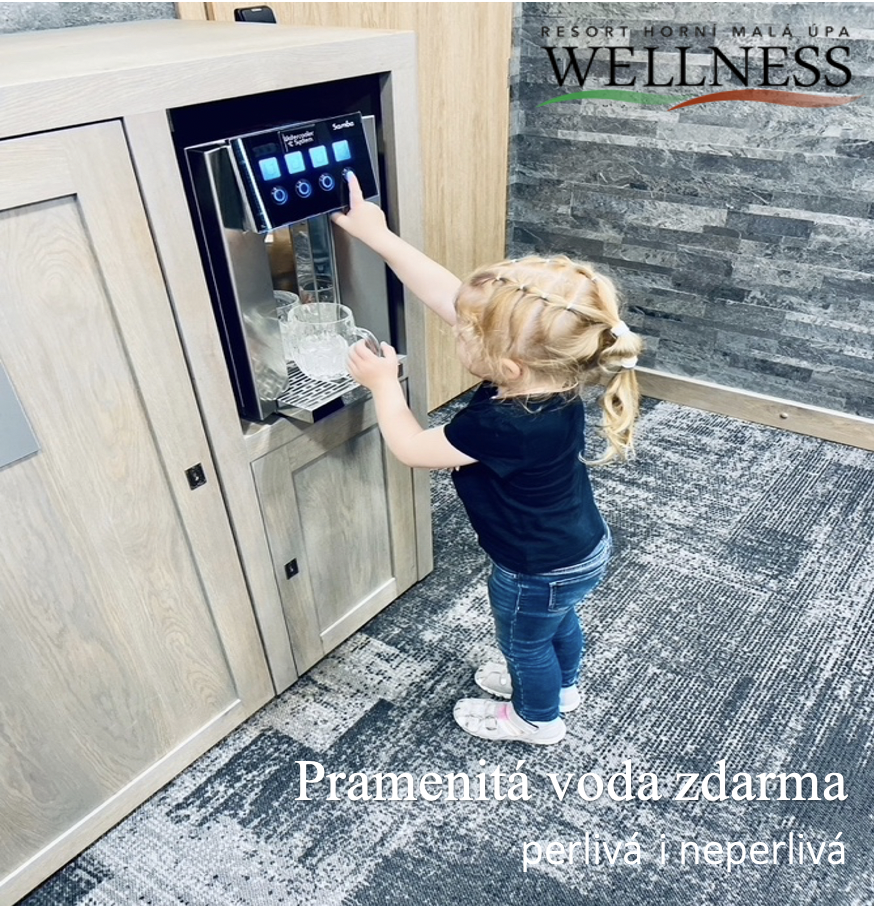 All rooms feature Wi-Fi, Smart TV, en suite bathroom with shower/bath and toilet, scented towels, hairdryer, comfortable beds, bed linen and tea/coffee making facilities.
A cot with a wooden playpen or an extra bed can be rented for each room on request.
Spring water from Maloupia, sparkling and still, free of charge for guests.

We have something for everyone. We cook delicious Czech and foreign dishes from honest, mostly local ingredients and we think about all those who suffer from food intolerances. Most of the dishes we offer can also be prepared gluten-free.
A separate children's play area keeps the kids entertained so parents can relax.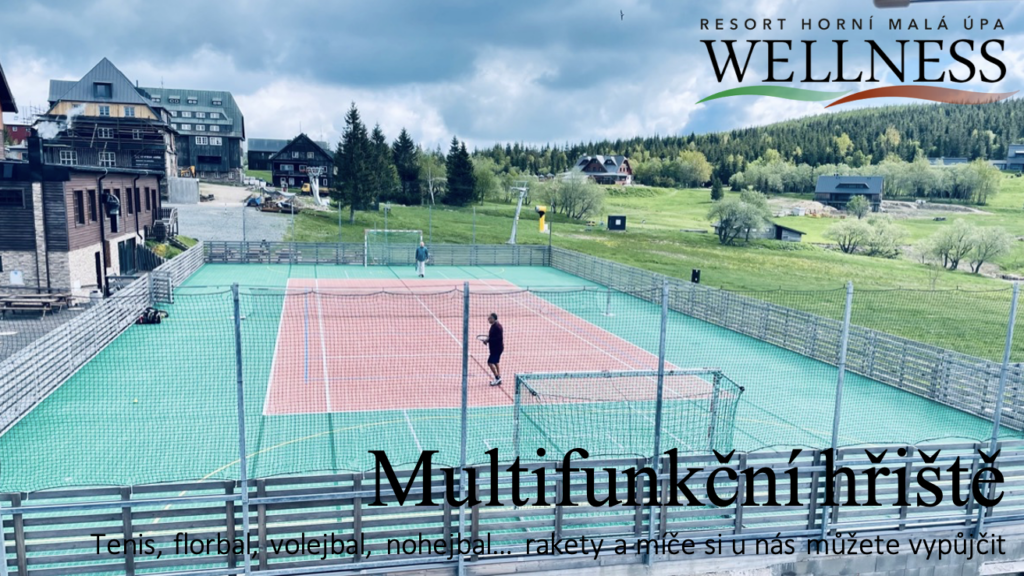 Summer holidays with children
Here you can enjoy the divine tranquillity of the fresh air in summer. Malá Úpa is a unique starting point for hiking and cycling in the eastern Giant Mountains. Not many people know that Sněžka is located in the territory of Malá Úpa.
And what else might you also not have known? In the territory of Malá Úpa there are 10 thousand, i.e. peaks with an altitude higher than 1000 m above sea level. More info
And those who already know Sněžka and its surroundings can go and discover the beauty of our neighbours. Poland is a stone's throw away.
Countless possibilities of entertainment, experiences and relaxation await you in the near and distant surroundings of our most beautiful mountains, the Giant Mountains.
Take your dogs with you, they would be sad at home. They will definitely enjoy the walks in the mountains.
After a challenging climb, in bad weather or just relax in our royal wellness centre. A swimming pool, whirlpool, sauna, steam room, experience shower and scented towels await you.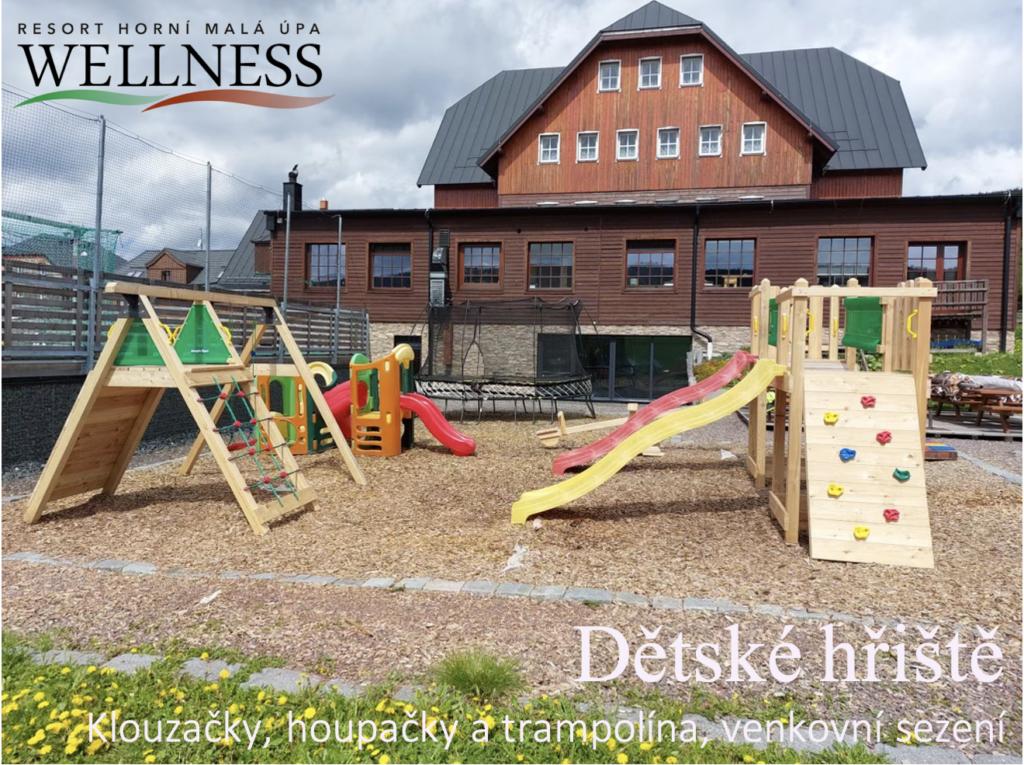 Why spend your summer holiday with us?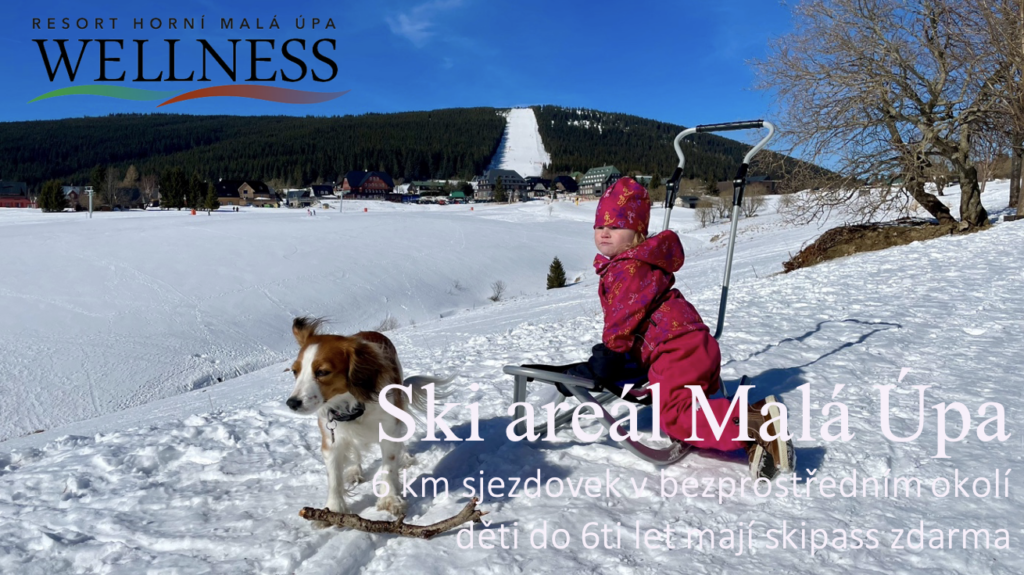 Winter holidays with children
In winter we are a paradise for skiers big and small. Ski resort Malá Úpa 6 km of ski slopes in the immediate vicinity. Children up to 6 years old have a free ski pass.
In our resort we run our own ski rental and ski school in winter.
And the best at the end. You can put on your ski-jumpers in the warmth inside, put on your skis in front of the main entrance and you can get to the slope on your own. Resort Wellness Malá Úpa is located just 200 m from one of the highest ski slopes in the Czech Republic. Nearest lift, anchor, 100 m. Nearest children's ski lift, strip, 200 m. The nearest ski rental and ski school is right on the resort premises.
In winter, you can also use other facilities of our hotel and spend part of your day other than in the snow. As part of your stay, you can relax in our royal spa with sauna, whirlpool and indoor pool or stretch out in the fitness room on the treadmill, stepper, exercise tower or cycle trainer.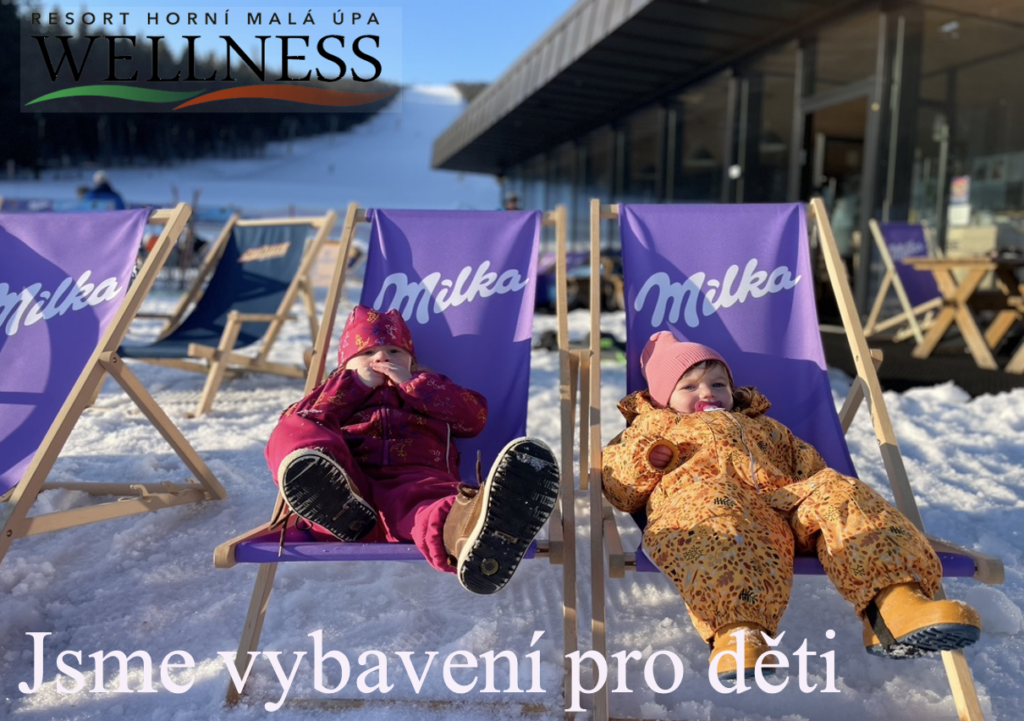 You haven't been here yet? Go this year!
Hotel capacity: 20 rooms, 8 one-bedroom rooms for 2-3 persons, 12 two-bedroom rooms for 4-7 persons, 1 two-bedroom suite with kitchenette
Capacity of the cottage: 9 apartments with kitchenette of which 6 apartments with one bedroom, 3 apartments with two bedrooms
Dependence apartment with private stupa, two bedrooms, kitchenette.
External facilities of the resort: parking, garage, ski rental, ski school, summer terrace
Indoor facilities of the resort: reception, restaurant (gluten-free menu option), children's corner, ski storage, bike storage, Wi-FI, libraries, no smoking
Room amenities: private bathroom with toilet, Smart TV, Wi-Fi, hairdryer, towels, bed linen, tea and coffee set,
If the kitchenette is included, there are dishes, dish towels and detergents, a hob, a pot, a pan and a fridge.
Relaxation and leisure: wellness, fitness, private lounges, in the summer additionally multifunctional playground, (tennis, football, soccer, football…) mini golf, bicycles and scooters, in the winter skis, snowboard, cross-country skis, sledges.
facilities for children: playroom in the restaurant, highchairs in the restaurant, microwave in the restaurant, outdoor playground for children (swings, slides, climbing frame, trampoline)
Conference facilities: multifunctional hall (50 persons), lounge Vagon (14 persons), lounge (30 persons)
Reception opening hours: 8:00-20:00
Restaurant opening hours for non-accommodated guests: summer 11:00-17:00, winter: 12:00-15:00
Restaurant opening hours for guests: 8:00-10:00 and in summer 11:00-22:00, in winter 12:00-22:00
Check-in: 15:00 – 18:00
Check-out: 8:00 – 10:00
Family holidays